Suitcase 4: Captain Kangaroo Won the War
(2015, Guided by Voices Inc.)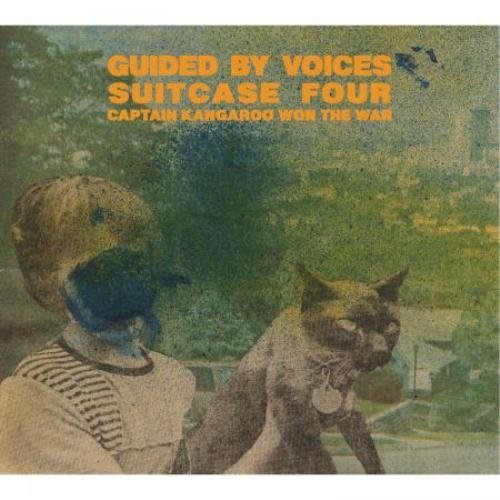 FOR A HANDY LINK TO THE OTHER SUITCASE DISCS IN SUITCASE 4, check below:
Every 5 years it seems to happen. The internet begins to swell with rumors among loyalists, from the exhausted diggers, to the mad-eyed melody hounds, to the relative newcomers cutting their teeth deeper and deeper, but never seeming to hit bottom. With the release of 2009's mostly underwhelming Suitcase 3 box-set, camp Pollard declared it to be their last in a series of 100 unreleased song collection. But as the hopeful had speculated, Pollard and the GBV universe does not rest easy. 2015 saw the GBV moniker back in flux with the release of yet another exhaustive 100 unreleased collection of demos, discarded ideas, squeals, full band ripper, and tape scraps. Suitcase 4 is now reality.
To reflect on the past, after the maddening output of
Suitcase 2,
only worsened with
Suitcase 3
, it's somewhat shocking to find the wealth of listenable, historic material found on this 4th Suitcase collection. The amount of '80s/early '90s on here makes you start to wonder, just how many tapes does Uncle Bob have in that cave of his, and how has he managed to hold back on releasing some of this stuff in the past? Mind you, not only has there been 300 "lost" Suitcase songs released over the past 15 years, but one has to take into account the murky recordings getting official releases of off-the-cuff audio debauchery over the past 30 years
under monikers such as Acid Ranch and Hazzard Hotrods. That's not to mention the countless other "demo" and bonus track releases along the way. One begins to deeply ponder, Just w
here is this stuff coming from?
As with
Suitcase 3
, Pollard is not shy about including newer, post GBV tracks in the collection. There's a healthy handful of fresh sketches recorded with Ricked Wicky's Nick Mitchell. We get an outtake or two from the now defunct Boston Spaceships outfit, as well as a couple cuts from the reunited (now defunt) GBV classic lineup. There's also a
healthy helping
of 2015 acoustic demos from Pollard stuck between the cracks here too.
Still, for all the new tracks we're presented with, there's
plenty
on display of a young Pollard, delivering some highly digestable shelved lo-fi tracks. The wealth of material here from days of Dayton's gone by is not only impressive, it's somewhat disturbing. If there was any doubt before, it is clear Pollard is a certifiable hoarder of his own past, and a calculated leader of his future legacy. Trying to add up the hours spent recording, assembling, storing, and restoring some of this stuff becomes almost sickening once you start diving deeper into the rabbit hole.
Suitcase 4
, while not the springboard for any new fans, offers up a mouthwatering smattering of historical tidbits, reference points, and original demos of fan coveted songs. It's enough to make any GBV-phile smack one's head and scream "HOLY HELL" seemingly at any moment. Buried in the hiss and mire, one can find original noodlings and pre-refined versions of "Postal Blowfish," "Quality of Armor," "Wished I Was a Giant," "Queen of Cans and Jars," among many other golden era GBV tracks. Take a few
uninterrupted
shots of Tequila and Ale 8 ginger ale, submerge your paw

in a dusty bag of Grippos BBQ chips, and dive into the vaults for a head trip, equal parts self-preservation, masturbatory bullshit, and a swell of ideas from the one-man rock history tutorial machine.
ADDITIONAL RELEASE NOTES:
In addition to Pollard's fake band names on the Suitcase releases (included on the back before each song), there are two that appear on this collection quite a few times, and for good reason.


-Most tracks credited to Jonathon Hyphen Jones are actually demos and sketches to songs from Robert Pollard's 2016 solo LP Of Course You Are. In most instances, I've noted these particular tracks, if not to a far too tediously.
-Additionally, there are a handful of songs in the collection credited to a 1983 band called The Crowd. It's been reported,a tape recently surfaced of Pollard's pre-GBV band featuring GBV's Mitch Mitchell on bass, Kevin Fennell on drums, and (previously unknown to the discography) Jimmy Davidson on guitar. In all, 7 tracks from these recordings were released on this box-set. Previously, the song "Little Jimmy the Giant ('83 version)" saw release on the GBV
Xeno Pariah 7''
single in 2013. According to reports, around 10 songs from The Crowd remain in the vaults. (Thank you to Dan at
Shit Canned
for unearthing this knowledge, and for continuing to reconstruct a gross of reportedly abounded GBV albums. Check out his exhaustive aural archeological digs into the Pollard jigsaw. Amazing work. To be checked out).
-Finally, this set contains the first recorded track ever released from Pollard's first band, Anacrusis. A band from 1975-1978, the lone track "Fame and Fortune" remains the only known recorded track from Pollard's earliest vessel. (check track 99 on
Disc 16
).
Also, worth noting, each box-set comes with an official GBV magnifiying glass to help you read all 100 dust-mite sized song titles squeezed onto the back. Some squinting required.
Disc 13:
Lead Walking Shorts- 2 What a perfectly stupid way to to open up yet another adventure down Suitcase lane. A shambolic rock jam that's a fitting opener, even if it goes on for WAY too long.
Walls and Windows
-
4
Ultra-brittle early sketch of the GBV classic "Hardcore UFOs" off
Bee Thousand
. Beautiful melodies sung over prickly guitar jangle. Early morning rays of hope shining through the blinds during the dead of winter. A hidden gem of historical significance rises!
I'm In Shock (Hit Me With Tonic)- 3 Credited to Jonathon Hyphen Jones here. This is the secret indicator that this is a demo of a track from Pollard's 2016 Of Course You Are LP. Super short with a couple great hooks thrown in for good measure. Promising.
Deaf Dumb and Blind Girl- 3 A possibly improvised jam with Ricked Wicky's Nick Mitchell made specifically for this collection. Annoyingly catchy and repetative. Kind of grows on ya after a while.
Try Me On For Size- 4 Oh man, another historic gem! Pollard sounds like he's 12 years old, strumming an early version of "Echos Myron" on an acoustic guitar. The lyrics are mostly abysmal diatribes about being in love and shit. Great artifact nonetheless.
No One Looking For You- 1 One evening, Pollard drunkenly turned on his electric razor to shave his head, but wound up falling down the steps instead. At the bottom, he decided to write and record this song, as the razor's hum continued in the background. One can only speculate.
Murphy Had a Birthday
-
4
Where has this shit been hiding? Fully realized, laid back college rock from the early to mid '80s featuring GBV alum Mitch Mitchell and Kevin Fennell. Simple grabbing hooks that sound like the great lost works left off
Forever Since Breakfast
or
Sandbox
.
Living on Planet Cake- 2 Greg Demos and Bob's brother, Jim, gather in the basement to make some fuzzed out filler. Pollard screams over squealing guitar crunch.
Great Service- 2 Pollard acoustic strums with a simple melody over it. Another demo from his 2016 Of Course You Are LP. Doesn't show much promise here, but so goes the demo.
Only Ghost in Town- 3 Todd Tobias handles all the instrumentation. Pollard sounds rather thin in the background making this seem like a lost Psycho and the Birds track. If that's the case, why not include it in the first place? Mid-tempo, meandering pop with a few awkward speedbumps.
8 Bars (Ext. #3)- 3 Originally, I let this one slip by me until a trusty reader, Dennis, pointed out that this is actually the same song as "8 Bars of Meaningless Mathilda" off Teenage Guitar's Force Fields at Home. The song starts with a dreaded answering machine track. Pollard loves to throw these in there from time to time. The song, ultra-brief but incredibly stunning. Hang with this for the payoff, but got to deduct a point for rehashing previously released bullshit.
No Bird
-
1
A possible lost Boston Spaceships' or Carbon Whales' track featuring both John Moen and Chris Slusarenko. Plodding lo-fi bass and drum stomp plays in the background as Pollard adds "new" vocals to some old tapes he found lying around. Unfortunately, Pollard delivers one of the worst performances of his life while constantly repeating the word "bird." Luckily this would only ever released once. Oh SHIT, wait..... (reappears, for some reason, on
Briefcase 4
).
Motor Away [Quiet Demo]
-
3
Well hot damn, another demo to leave you watering at the chops. An early version of the
Alien Lanes
classic. Or maybe this was recorded later for the purpose of releasing such "lost" classics? Excuse my conspiracy theory. I know not what I do.
The Garden- 4 The liner notes credit this as being written by 3 GBV alum, but then 4 others actually play on the recording? Yes, it's another cut from Pollard's lost tapes of The Crowd. Whatever the formula here, this is another fully realized 80's track. Somewhere between Blue Oyster Cult and postpunk penny candy. Killer keyboard line in there for good measure.
Happy Heartbreaker- 3 Another Of Course You Are demo. A poppy, acoustic strummer that shows some potential among the short bursts and tape hiss.
Less Active Railroad
-
5
Holy crapola! An early verision of "'Wished I Was a Giant'" off
Vampire On Titus
. Instrumentally, the song is practically the same structure (sans drums). Completely different lyrics and slightly altered melodies too. Pollard sounds like he's in his Freshman dorm. Still a killer song, especially when Uncle Bob let's the vocal melody fly. Plodding lo-fi bass holds it down.
Porpoise Northeast- 2 Opens with a tacked-on marching intro bit. Abruptly turns into what sounds like one of the great lost Acid Ranch tracks of all-time. No-fi, improvised basements patchwork with acid beat ravings. The main drawback to this mess is the near 4 minute run-time.
Pretty Pinwheel- 1 Lush acoustic strums played while Pollard gives a herniated disc type showing. Oh wait, that's actually close friend of GBV, Randy Campbell, on lead vocals. Somewhere between dream pop and prog, this goes on far too long to be anything of note.
Back to the Dividing Board- 4 The back of Suitcase 4 points out that the skipping you hear on this track is due to the CD source this song was pulled from. With that said, said skips do provide a hypnotic noise backbone, as Pollard built this into a mini-studio epic. With repeated listens, this could become one of your Pollard prog highlights.
Mary and the Summer- 3 Just a shade under a minute. Creaky, skipping, dusty pop. Short and cryptic.
Eloise- 4 Early '80s power pop jam, so saccharine sweet it might rot your molars. Another fully-fleshed out track that sounds like a pre-GBV jam from The Crowd. Catchy, almost for all the wrong reasons, but so short it's undeniably infectious.
Here To Stay- 3 Pollard credits the track to Abigail French. Well, Pollard is in full on falsetto whisper as he plucks away this snippet of haunting beauty. Shockingly solid.
She-It- 1 Nick Mitchell sings somwhere in the distance as brothers, Robert and Jim Pollard strum flanged out guitars. Nope.
Hallway of Shatterproof Glass- 5 Any GBV fan knows these words... And yes, this is an early revision of "Goldheart Mountaintop Queen Directory." A hi-fi, stoner version with completely different lyrics and feel. Raise a lighter and declare it one of the great lost GBV outtakes of all-time.
Govt. Bldg. 15
-
1
Some typical
Suitcase
noise bullshit. Joe Patterson of
The Sunflower Logic
makes noises as Pollard sounds like he's dying from acid reflux in a mystic far-off land. Kind of into the song title though.